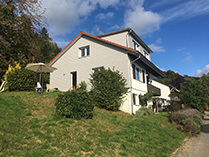 Unsere Ferienwohnung
in der Bodenseeregion in Gailingen
am Hochrhein


Welcome to the Wendsee lake area in the
historic region known as Mark Brandenburg


Vacationing in Kirchmoeser
The historic village of Kirchmoeser is situated on a peninsula in the midst of five lakes that are connected by the Havel river. We invite you to experience memorable holidays in our historically- designated heritage waterfront villa.

Enjoy nature
Take a dip in the lake or visit the surrounding towns by boat, hike through the aromatic pine forests, stroll through Canola fields of yellow blooms; or, if you prefer, explore the surroundings by bicycle.

There are many places to discover
Close by is the town of Brandenburg with its historic town centre. A short distance away, you will find the idyllic town of Tangermuende on the Elbe river as well as the Lehnin monastery, which is not far away. You can easily reach Berlin, the capital of Germany, by train in 45 minutes. Here you will find countless architectural attractions and a host of entertainment in arts and culture. In Potsdam you may want to explore the historic town centre with its quaint cafis, or enjoy a visit to the Sanssouci castle with its unsurpassed garden landscapes.

You may also want to just hang loose
You may also just want to hang loose This can be easily accomplished by relaxing in our garden and watching the pleasure boats go by as well as the loaded barges taking their goods via the Elbe-Havel canal to distant places. The scenery is ever-changing. Top off a perfect day with an evening BBQ on your private terrace.